Your Nails Are Jewels Not Tools !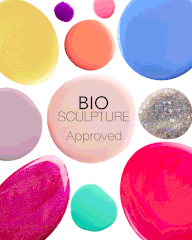 Bio-Sculpture Gel

A nail treatment that is applied to enhance the natural nail.
The Bio-Sculpture gel dries instantly and comes in a vast variety of colours or a natural French finish.
This long lasting, chip-proof nail treatment leaves your nails strong and flexible.

Full set of Overlay
​
Overlay on Toes
Full set of Nail Extensions
Soak Off
​
Repair
​
Pedicure with Gel
£31.50
​
£26.00
£43.00
£8.00
​
£3.00
​
£45.00
Shellac

Say good-bye to chips, smudges and dry time and say hello to Shellac
Hybrid Nail Colour! This revolutionary product applies like polish,
wears flawlessly for 14 days of high gloss shine and it removed in minutes.

Hands
Toes
Soak Off
Manicure with Shellac
​
Pedicure with Shellac
£26.50
​
£21.50
£8.00
£35.00
​
£40.50
Pedicure
Treat your feet with a luxury foot treatment including hard skin
removal, cuticle work, nail cutting and shaping, foot and leg massage
followed by nail polish application.
Pedicure
​
Elim Pedicure with Heel Peel
File and Varnish
Manicure
A manicure offers a full treatment of the hands, comprising of cuticle work, nail shaping, massage and polish application.
Manicure
​
Deluxe treatment with heated mittens
File and Varnish
Nail Art
We are renown for our fabulous nail art designs.
We love a challenge from patterns, pictures to gorgeous glitter effect with diamonds.
50p per nail